Christine graduated from Michigan State University with degrees in Environmental Biology and Geography and received her Master's from Duke University. In high school she scored in the 99th percentile on the SAT and was named a National Merit Finalist. She has taught English and biology in several countries.
Persuasive Essay Topic Ideas
The persuasive essay is one type of writing that you will likely come across in your academic career. A persuasive essay, if you're unfamiliar, is one in which you have to make an argument. You need to choose a side and prove why you're correct by using hard evidence and convincing language. The idea is that you want to convince the reader that your argument is the right one, so you'll definitely want to pick a topic that you're passionate about and something that you'll get excited about researching and writing. This exercise is designed so that you can clearly articulate your opinion and understand why it's important to have evidence to back up your claim.
Your teacher or instructor will probably have specific guidelines on what your essay should entail, but you might have a little bit of free reign on what kinds of topics you can explore and argue about in your essay. With so many things to argue about and for, it might be a little overwhelming to come up with a topic on your own. When you feel like you're stuck on brainstorming ideas, take a look at the following list of 75 persuasive essay topics. You may find something you can use, or something you can adapt for the specific guidelines of your paper. Happy writing!
Educational persuasive essay topics
There are so many things that can be discussed when it comes to education. In our country (and globally), there are many different opinions on how education should be handled and what tactics teachers or academic administrators should use. Here are a few topics on education (which could be expanded or changed to fit your teacher's guidelines) that might be of interest to you.
Should soda be offered in school cafeterias?
Should schools teach abstinence-only education?
Why should schools teach financial literacy?
Do all students need to go to college?
Should students take a gap year after high school?
Do all students need to learn a foreign language?
Is online or homeschool an effective way to learn?
Should standardized tests determine whether or not you go on to another grade level?
Should all students be required to participate in the arts?
Should a college education be free?
Should high school journalists be protected under the First Amendment?
Some universities just have pass/fail grades instead of letter grades. How do you feel about this?
Should teachers/professors be unbiased in the classroom?
Should you still learn cursive in elementary school? What are the disadvantages/ advantages?
Many college campuses have speakers come in occasionally. These speakers can range in political opinion and some can be controversial. Should you let speakers come to schools that have controversial rhetoric or ideas to uphold free speech?
What Makes a Good Persuasive Essay Topic?
Theoretically, you could write a persuasive essay about any subject under the sun, but that doesn't necessarily mean you should. Certain topics are easier to write a strong persuasive essay on, and below are tips to follow when deciding what you should write about.
It's a Topic You Care About
Obviously, it's possible to write an essay about a topic you find completely boring. You've probably done it! However, if possible, it's always better to choose a topic that you care about and are interested in. When this is the case, you'll find doing the research more enjoyable, writing the essay easier, and your writing will likely be better because you'll be more passionate about and informed on the topic.
You Have Enough Evidence to Support Your Argument
Just being passionate about a subject isn't enough to make it a good persuasive essay topic, though. You need to make sure your argument is complex enough to have at least two potential sides to root for, and you need to be able to back up your side with evidence and examples. Even though persuasive essays allow your opinion to feature more than many other essays, you still need concrete evidence to back up your claims, or you'll end up with a weak essay.
For example, you may passionately believe that mint chocolate chip ice cream is the best ice cream flavor (I agree!), but could you really write an entire essay on this? What would be your reasons for believing mint chocolate chip is the best (besides the fact that it's delicious)? How would you support your belief? Have enough studies been done on preferred ice cream flavors to support an entire essay? When choosing a persuasive essay idea, you want to find the right balance between something you care about (so you can write well on it) and something the rest of the world cares about (so you can reference evidence to strengthen your position).
It's a Manageable Topic
Bigger isn't always better, especially with essay topics. While it may seem like a great idea to choose a huge, complex topic to write about, you'll likely struggle to sift through all the information and different sides of the issue and winnow them down to one streamlined essay. For example, choosing to write an essay about how WWII impacted American life more than WWI wouldn't be a great idea because you'd need to analyze all the impacts of both the wars in numerous areas of American life. It'd be a huge undertaking. A better idea would be to choose one impact on American life the wars had (such as changes in female employment) and focus on that. Doing so will make researching and writing your persuasive essay much more feasible.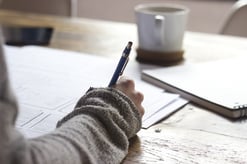 Persuasive Essay Topics
So, you were assigned to write a persuasive essay, where should you start? The first step in preparation for writing is the choice of a topic. A lot depends on this step. If you manage to pick a good topic, the writing process will be much simpler and you will also have higher chances to get a really good grade. At the same time, if a topic is not relevant or engaging enough, it can ruin everything.
Although having freedom of choice is seemingly a good thing, many students feel rather confused about which persuasive topics are good ones. If you are wondering how to pick a good subject, here are the main criteria that define good persuasive topics:
The topic is engaging. A great topic should not only be interesting for your audience, but for you as well. If you find something you are interested in, the writing process will become more pleasant and less stressful to research.
You have an opinion about it. In order to persuade readers of something, you need to define your position first. Thus, it is vital to pick a persuasive topic you have an opinion about.
It is controversial. Obviously there should be two sides of the argument in order to have something to convince your audience about. Thus, you need to pick a topic you can examine both sides of.
The topic is manageable. Finally, a perfect persuasive topic is one for which there are enough arguments to provide. Therefore, before you stop on a specific topic, be sure to conduct enough research to see if you can find sufficient supporting evidence for your ideas.
Following these tips, you can generate brilliant persuasive speech topics for college and school with ease. Need some extra prompts to get started? In the list below, we have included some of the most relevant and interesting persuasive speech topics—divided into categories:
Persuasive Essay Topics for Kids
Persuasive Essay Topics for Elementary Students
Persuasive Essay Topics for Middle School
Good Persuasive Essay Topics for High School
Persuasive Speech Topics for College Students
Easy Persuasive Speech Topics
Science Persuasive Essay Topics
Fun Persuasive Speech Topics
Most Controversial Topics
Environmental Persuasive Essay Topics
Persuasive Speech and Essay Topics About Music
Immigration Persuasive Essay Topics
Persuasive Speech Ideas About Medicine
Sports Persuasive Essay Topics
Good Persuasive Speech Topics for Arts
Sources:
https://www.servicescape.com/blog/75-persuasive-essay-topic-ideas
https://blog.prepscholar.com/persuasive-essay-topics
https://essaypro.com/blog/persuasive-essay-topics